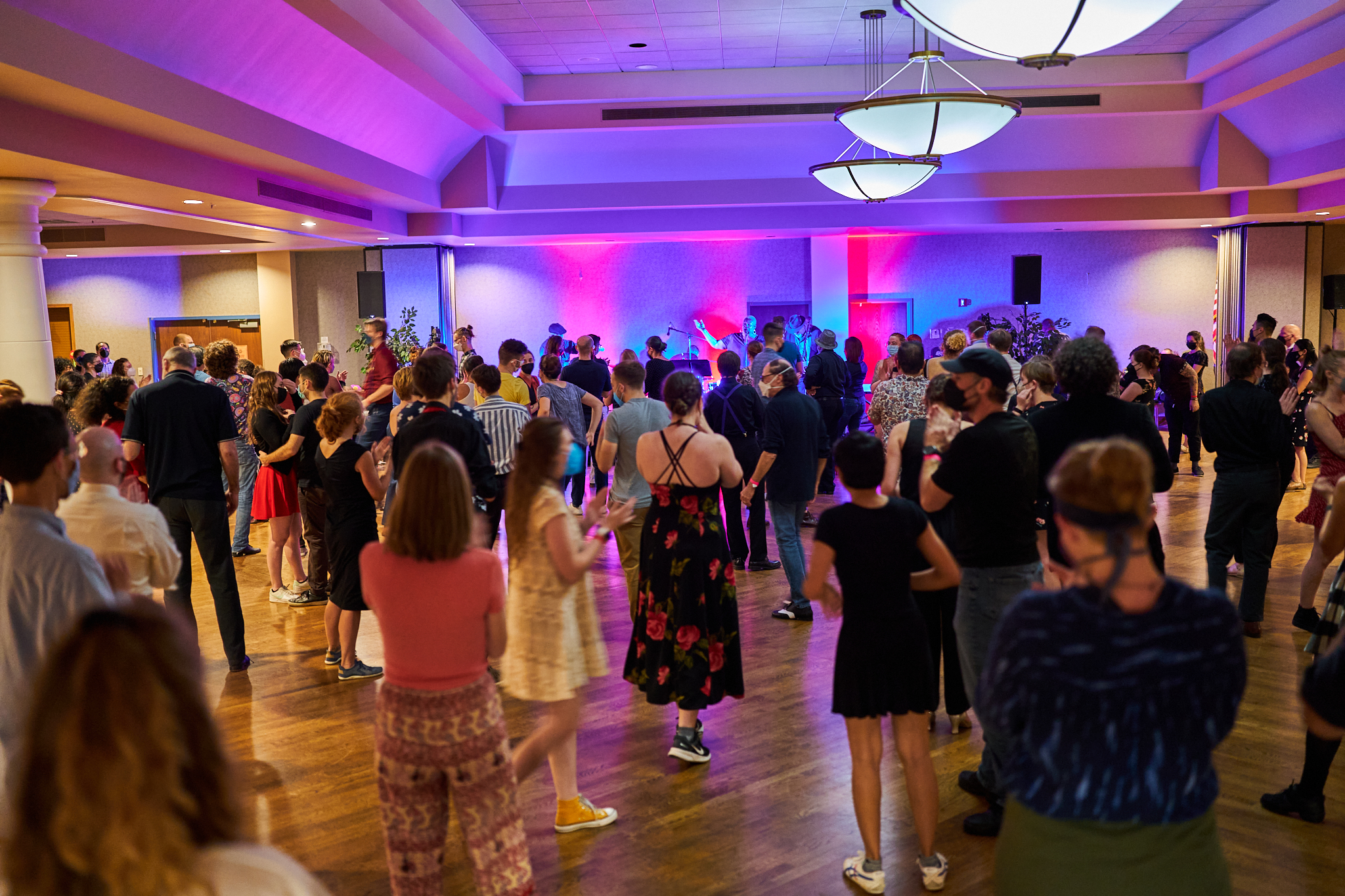 About
The idea hit us in late 2000 when a few Pittsburgh dancers, back from a recent exchange, thought, "Why can't we do this in Pittsburgh!?"
Bands are posted already, but stay tuned to learn more about our new venue and our rockstar DJs!
A PittStop timeline that goes all the way back to our very first PittStop in 2001!
November 17-19, 2023
We'll be back in our regular weekend before Thanksgiving! November 17th-19th!
November 11-13, 2022
We're back! And we came back with a bang! With over 300 dancers (not counting single dance purchases!), our dance floor we're packed as they enjoyed swing music from hometown hero, Paul Cosentino and the Boilermaker Jazz Band as well as Chelsea Reed and the Fair Weather Five (though she definitely had more than 5 band members up on stage, is it time for a rebrand?). Miss Freddye's Homecookin' Band and Jimmy Adler's Blues Band kept our dancers up and moving way past their bedtimes. It was a hugely successful event and we cannot even begin to express how grateful we are for every single one of you who came out to dance with us!
November 2021
We started to plan an event, but everything was too up in the air in regards to COVID so we had to put everything on the back burner until 2022.
November 21, 2020
Covid-19 tried to ruin everything, but we fought back with an online event that crushed every single expectation we had for it. City of Asylum @ Alphabet City was an incredible organization to work with. They use the funds they raise to help support and provide sanctuary to writers and artists who are endangered and exiled from their home countries. Alexis, our point-of contact, videographer, host, chat moderator, and all-around super star saved our event when Allegheny County outlawed indoor events of any size 3 days before we were scheduled to live stream from inside Alphabet City! With amazing flexibility from Paul Cosentino and the Boilermaker Jazz Band, we were able to pre-record an outdoor concert on one of City of Asylum's lots. Pittsburgh actually had a warm, sunny day on a Friday in November! Stars were aligned! The livestream itself went off without a hitch! Everyone was active in the chat, and friends we hadn't seen in years showed up to support us! There was even an interview portion at the end with Paul, Alexis, and some of our long-time committee members. We are so grateful to everyone who donated. We raised enough money to make an additional donation to City of Asylum! Click here to view a recording of the event.
November 22-24, 2019
With dancers for more than 20 states coming to Pittsrbugh for this event, we decided to feature our famous golden triangle this year! The local, but world-famous Paul Cosentino and the Boilermaker Jazz Band kicked our event off the best possible foot! Friday night was a great night for our amazing local talent, as Miss Freddye's Homecookin' Trio kept us Blues dancing into the wee hours of the morning! Saturday and Sunday were just as fire with two sets each from Chelsea Reed and the Fairweather Five as well as Gordon Webster (who featured our very own Paul Cosentino on clarinet!)! And our DJ'd music was anchored by Dan Repsch who made it here all the way from Canada!
November 16-18, 2018
PittStop has become one of the longest and well-known running swing (lindy hop) dance exchanges in the country. Our 2018 theme was the many bridges in Pittsburgh. (Fact: Pittsburgh has over 440 bridges, more than Venice, Italy, earning our city the nickname the "City of Bridges.") We brought back Gordon Webster, Chelsea Reed & The Fair Weather Five, Miss Freddye's Blues Band, and our perennial local favorite The Boilermaker Jazz Band. These bands have always sparked excitement and joy in the dance audience at our event, and 2018 proved once again that PittStop is a hit!
November 17-19, 2017
PittStop proved that it has become one of the longest running lindy hop and swing dance exchanges in the country. For this year we had a perennial favorite The Boilermaker Jazz Band, Chelsea Reed and the Fair Weather Five, Josh Fialkoff & the Fried Bananas and once again, Paul Cosentino's Hot Metal Swing Orchestra. Many college groups attended–which have become a staple of this event. We had dancers attend from more than 20 states including DC and Canada.
November 18-20 2016
This was our Sweet 16 party with Chelsea Reed and The Fair Weather Five, The Boilermaker Jazz Band, Miss Freddye's Blues Band, Gordon Au's Pittsburgh Stompers featuring Tamar Korn, and the first-time band put together just for our 16th Anniversary, Paul Cosentino and the Hot Metal Swing Orchestra (14-Piece). A great time was had by one and all!
November 22-24, 2015
Last year we had our most exciting band lineup at our most favorite venues and delivered a fantastic weekend of swing dancing and fun for all who attended! Many hundreds of visitors travelled in from faraway places to join in and dance with hundreds of Pittsburgh locals to help make this one of our most fun-filled exciting weekends of swing dance ever!
November 21-23, 2014
Dancers who registered from 27 states plus Canada and D.C. made this one of our most diverse group of dancers ever! Two brand new exciting bands joined PittStop: The Fried Bananas opened the weekend and The Downtown Shimmy played the blues late night. Gordon Webster brought his nine-piece band for Saturday evening. And Gordon played piano for The Boilermaker Jazz Band on Sunday while Paul Consentino played with Gordon Webster on Saturday! Five Guys Named Moe All Star Band concluded the weekend for the remaining happy and near-exhausted yet still enthusiastic participants.
November 22-24, 2013
Two servings of Gordon Webster, two servings of Solomon Douglas including one with singer Alison Dreyfuss, The Boilermakers, and Dr. Zoot all playing in our favorite venues like Soldiers and Sailors Memorial Hall, Pittsburgh Opera, and CMU's Rangos Ballroom… we served up seven sumptious dances and burned more calories than ever as we simmered and boiled over with enthusiasm and thrills at one of Pittsburgh's best lindy exhanges!
November 16-18, 2012
The Boilermaker Jazz Band, Gordon Webster, Jimmy Sapienza's Five Guys Named Moe, and the Glenn Crytzer Band performed in venues that included several favorites, like Soldiers and Sailors Memorial Hall, Pittsburgh Opera, St. Nicholas Greek Orthodox Cathedral and the Pittsburgh Dance Center! We exceeded our expectations once again thanks to registered dancers from around the U.S. and Canada and local attendees!
November 4-6, 2011
Glen Crytzer and his Syncopators… The Solomon Douglas Swingtet… Gordon Webster… The Boilermaker Jazz Band… Rick Matt's Little Big Band… 7 DJs… late-nights with dual rooms for both blues & lindy hop… a really great crowd… perfect weather… super volunteers… fun awards… Have we said enough?!!
November 19-21, 2010
Celebrating our 10th anniversery, we left it all on the floor with live music at every dance – 7 bands at 7 dances, it was our best lineup ever and the PittStop crowd really appreciated it! — The Blue Vipers, The Boilermakers, Soloman Douglas, Dr. Zoot, Jimmy Sapienza, Nelson Harrison, Rick Matt, plus many fantastic deejays! We had a tremendous turnout and the best time!
November 20-22, 2009
The Solomon Douglas Swingtet kicked off this special weekend, which included a total of 6 great bands. Our weekend passes sold out early and we had dancers from over 20 states making this PittStop our biggest exchange ever.
November 21-23, 2008
George Gee's band, The Boilermaker Jazz Band, Ms Freddye, Jimmy Sapienza's Five Guys, and Rick Matt's band made for one huge "WOW, WHAT A LINEUP!!" The number of registered dancers surpassed any of the years before and the local turnout was great. We exceeded our expectations!
November 16-18, 2007
We planned the 7th fun-filled weekend with terrific bands and venues for great dancing for everyone – young and old, beginners and veterans, balboa dancers and blues dancers!! #7 brought many lucky surprises including new bands and returning bands, new friends and old pals, new venues and seasoned locations.
November 17-19, 2006
Yet another jam-packed weekend with more bands and venues than ever. The Sweaty Betty Blues Band debuted at late night to a hugely welcoming dance audience. Jimmy Sapienza's Five Guys Named Moe also debuted for afternoon dancing sweet & smooth. Roger Humphries Big Band returned, plus an assortment of DJ's rounded out the music mix and everyone had a great time!
November 4-6, 2005
Hot jazz, jazzy jazz, jump blues and more, this event marked international visitors from Australia, Korea and Finland in addition to Canada. Great local turnout as well! Featured The Boilermakers Jazz "Big" Band with Jennie Luvv plus guest musicians for a uniquely large band sound heard only at PittStop!
November 12-14, 2004
Emphasis on Blues music in addition to classic Jazz bands and once again, great venues with a great turnout! USO dance performers travelling through Pittsburgh attended the Sunday evening dance! We featured George Gee's Pittsburgh Reunion Big Band combining George's original musicians from the "Burgh" with his core New York ensemble.
November 21-23, 2003
Another great turnout for several new jazz bands and venues. Dancers came from 26 states and Canadian provinces! Guest radio hosts/DJ's Mike Plaskett and Ken Crawford spun tunes and recorded the Saturday afternoon dance for radio airplay! The Roger Humphries Big Band featured again by popular demand! Also, jazz vocalist great Sandy Staley and her quintet opened the event Friday evening!
November 15-17, 2002
A really tremendous turnout for a fantastic lineup of bands and music. We made history! Featured Roger Humphries Big Band plus jazz historian Nelson Harrison as a guest speaker on Pittsburgh's jazz legacy.
November 9-11, 2001
Pittsburgh's very first lindy exchange! We were afraid good dancers might not come! But we had a respectable turnout and great fun. We featured The Boilermaker Jazz Band with Jennie Luvv. Everyone had a great time!